News
Address:
ISMAN
Academician Osipyan str., 8
Chernogolovka
Moscow Region, 142432
Russia
E-mail:
isman@ism.ac.ru
webmaster@ism.ac.ru
Fax:
7 (49652) 46-222
7 (49652) 46-255
Phone:
7 (49652) 46-376
The Latest News
ISMAN News
New Book: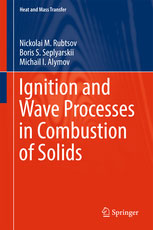 Nickolai M. Rubtsov, Boris S. Seplyarskii, Michail I. Alymov. Ignition and Wave Processes in Combustion of Solids.
ISSN 1860-4846 ISSN 1860-4854 (electronic) Heat and Mass Transfer
ISBN 978-3-319-56507-1 ISBN 978-3-319-56508-8 (eBook)
DOI 10.1007/978-3-319-56508-8
Library of Congress Control Number: 2017937272
© Springer International Publishing AG 2017
This book focuses on the application of classical combustion theory to ignition and flame propagation in solid-solid and gas-solid systems. It presents experimental investigations in the areas of local ignition, filtration combustion, self-propagating high temperature synthesis and nanopowders protection. The authors highlight analytical formulas used in different areas of combustion in solids and propose an approach based on classical combustion theory. The book attempts to analyze the basic approaches to understanding of solid-solid and solid - gas combustion presented in contemporary literature in a unified approach based on classical combustion theory.
ISMAN News
ISMAN Website News